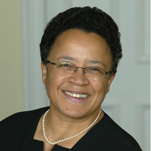 Appointed a High Court judge in October 2004, The Honourable Dame Linda Dobbs DBE made legal history when she became Britain's first non-white High Court judge. She has many titles and accolades, including Queen's Counsel, and five honorary doctorates.
Dame Linda Dobbs was born in 1951 to a Sierra Leonean mother and an English father. Her father was a lawyer and later a High Court judge in Sierra Leone. Her early education was in Sierra Leone; she later attended boarding school in England. Dame Linda thought that she wanted to be an academic rather than a practising lawyer, having obtained the degrees of BSc, LL.M and PhD. However, encouraged by her family, she sat the Bar exams and was called to the Bar in 1981. She trained at the chambers of the then Attorney General, Sir Michael Havers QC where she obtained a tenancy and following a successful career was appointed to the high court bench.
Dame Linda has held many positions concerned with equality and diversity and ethics. She supports and mentors aspiring lawyers and regularly gives talks at schools and colleges. She is the President of ILFA (International Lawyers for Africa and a patron or on the advisory Council of a number of charitable organisations, largely connected to Africa. She has been included in The Times list of the 100 Most Influential Lawyers, and was awarded the title of the New Nation Role Model of the Year in 2003 as well as appearing regularly in the annual Powerlist of the 100 most influential black Britons.