---
A Happy New Year to our Supporters
A huge thank you to all our friends, including Councillor Dora Dixon-Fyle, The Worshipful Mayor of Southwark, Reverend and Mrs. David Coram, Reverend William George, Derek Vincent, and the Leigh Family who took the time to join us on Sunday 13th December at our carol service at Norbury Baptist Church, made donations, sent good wishes and in many other ways rendered support to make the carol service such a success. All the support was greatly appreciated.
My fellow Trustees and I, would like to take this opportunity to thank our Secretary, Karin Hyde, for her tireless efforts in organising this event.
We had a wonderful service with nine carols and nine readings. The service was graced by a solo performance from a very talented young singer, Jojo Philips (pictured).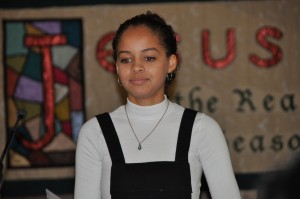 Our speaker, Iyamide Thomas, during her address entitled 'Krio Women: Pioneers in Education', treated the congregation to an interesting overview of several female Sierra Leonean educators who were trailblazers in their time: Hannah Benka-Coker, Adelaide Casely-Hayford, Lati Hyde-Forster, Constance Cummings-John, Frances Wright and Stella Thomas.
Through the generosity of our many friends, we can further the work of rebuilding primary schools in Sierra Leone thus delivering on our aims – one of them being, providing a series of educational activities for Sierra Leonean children and young people, in order to cultivate a positive cultural identity and a sense of belonging and in the words of Martin Luther King, "Intelligence plus character, that is the goal of true education".
We take this opportunity to wish all our supporters a Happy and Prosperous New Year, with good health, wealth and happiness.